FACTORS INFLUENCING STUDENT SATISFACTION OF ONLINE LEARNING WITHIN A VIETNAMESE UNIVERSITY CONTEXT DURING THE COVID-19 PANDEMIC
Từ khóa:
Covid-19 pandemic, learning quality, managerial implications, online learning, student satisfaction
Tóm tắt
Covid-19 created an unprecedented and severe crisis in Ho Chi Minh City. One of the more serious consequences of the Covid-19
pandemic has been social distancing. For the education system, the pandemic has directly affected students' learning processes. Students have to study online at the begining of the new school year. This study aimed to investigate and clarify the impact of factors affecting the satisfaction of university students in Ho Chi Minh City in the online learning process. A total of 999 university
students participated in a student satisfaction survey. The survey results show that most of students participating in the survey are satisfied with their online learning process. Many factors had a positive influence on students' satisfaction in online learning, in which learning conferencing software had the greatest influence. Another finding was that there is a huge difference in students'
responses to learning conferencing software. The study determined that the experience of using learning conferencing software influences student satisfaction, and it evaluated which learning conferencing software is the most optimal. Students satisfaction also varied depending on the number of academic years which the respondents had previously completed. This study's findings are
valuable for higher education administrators who want to improve student satisfaction with online learning as it makes suggestions and recommendations to improve the quality of online learning and student satisfaction in Vietnam.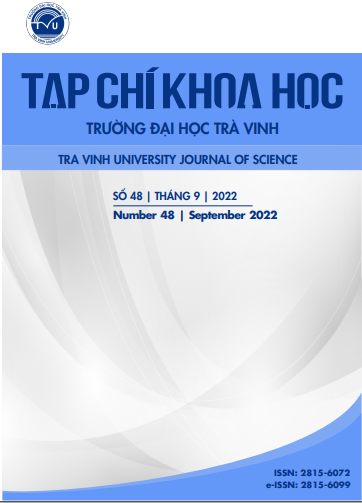 Tải xuống
Cách trích dẫn
1.
Pham Nguyen Trong Nhan, Nguyen Ban Mai, Vo Bich Tuyen. FACTORS INFLUENCING STUDENT SATISFACTION OF ONLINE LEARNING WITHIN A VIETNAMESE UNIVERSITY CONTEXT DURING THE COVID-19 PANDEMIC. tvujs [Internet]. 19 Tháng Mười 2022 [cited 23 Tháng Ba 2023];11(48):11-23. Available at: http://journal.tvu.edu.vn/vi/index.php/tckh/article/view/129