ENGLISH FOREIGN LANGUAGE TEACHERS' PERCEPTIONS ON UTILIZING SONGS FOR TEACHING ENGLISH LISTENING SKILLS TO YOUNG LEARNERS A CASE STUDY IN TRA VINH PROVINCE, VIETNAM
Từ khóa:
listening skills, songs in English teaching, EFL teachers' perceptions, young learners
Tóm tắt
Within English teaching and learning facilities in most schools and English language centers in Vietnam, using songs is considered to be one of the most effective techniques for improving young learners' communicative competencies in English. Although many studies have discussed the technique, few studies have mentioned teachers' perceptions regarding the employment of songs in teaching listening to young learners in the context of Vietnam. To investigate teachers' perceptions of using songs in teaching listening to young learners, this study was conducted with a mixed-method approach using questionnaires and semi-structured interviews with 55 teachers from an English language center in Tra Vinh Province. The results indicated positive perceptions from teachers about utilizing songs in teaching listening to young learners. The teachers tended to enjoy integreating songs in their teaching listening activities. From the findings, the paper concludes by suggesting more research within the state school context specifically targeting teaching listening skills for other grades using songs.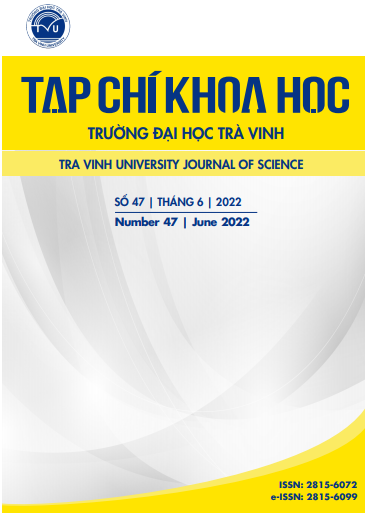 Tải xuống
Cách trích dẫn
1.
Lam Thi Ngoc Dieu, Nguyen Duy Khang. ENGLISH FOREIGN LANGUAGE TEACHERS' PERCEPTIONS ON UTILIZING SONGS FOR TEACHING ENGLISH LISTENING SKILLS TO YOUNG LEARNERS A CASE STUDY IN TRA VINH PROVINCE, VIETNAM. tvujs [Internet]. 5 Tháng Chín 2022 [cited 4 Tháng Mười 2022];1(47):39-46. Available at: http://journal.tvu.edu.vn/vi/index.php/tckh/article/view/119